About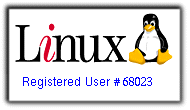 My name is Bill Nikolopoulos.
Currently i am working as SE in a .com. You can find my complete bio on linkedin http://gr.linkedin.com/in/billnikolopoulos
I am a register linux user with ID 68023.
I spend most of my time using Linux for the following tasks:
Bash (Shell Programming).
LAMP (Linux, Apache, Mysql, PHP or Perl).
Web Design.
C/C++ Programming.
But my favorite OS is Solaris on big machines such as E250/E450 (on the time i wrote this page 🙂 ) or higher….;))) and *BSDs
But i also use windows on to do the following tasks:
Design of electronic stuff.
Hardware Design (ISA/PCI Cards, Interfaces).
Software/Hardware Design.
If you want to send me an email, you can also send it encrypted if you like. My GPG id is 0xF7885CB8 and the fingerprint is the following BBE4 B65A 75FB 9889 CB07 D6BD 1D